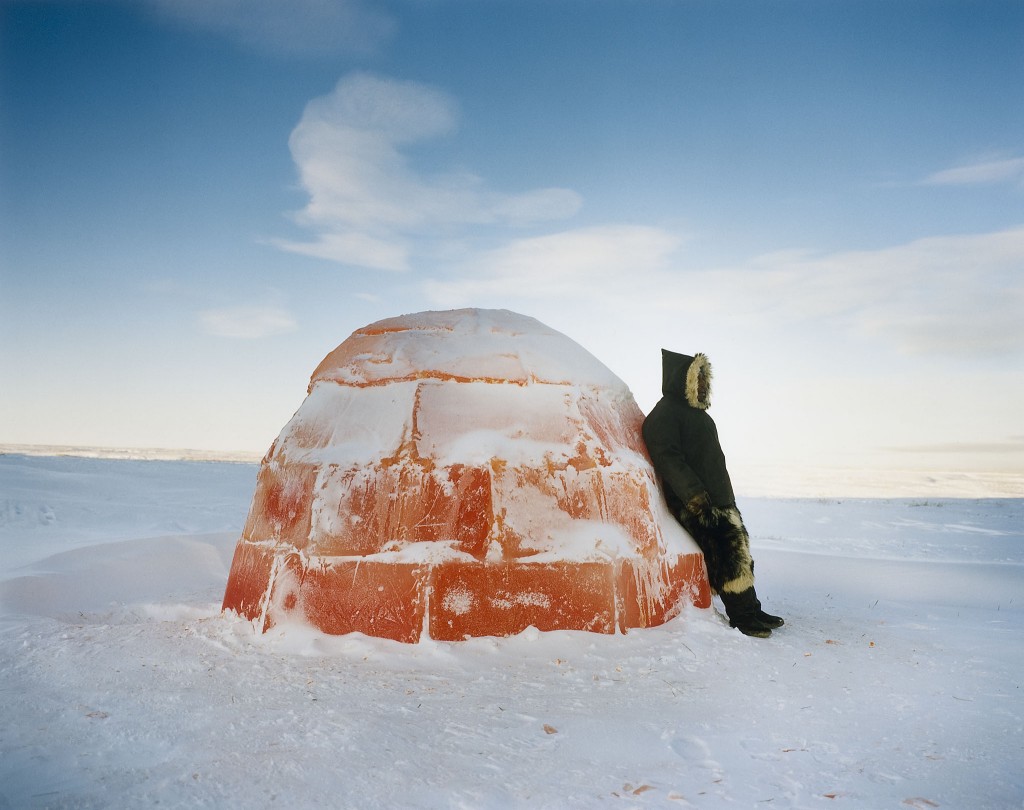 Nunatsiaq Newspaper
Dutch artist brings splash of colour to Igloolik

SONIA GUNDERSON

IGLOOKLIK - Residents of Igloolik, known as the "place of many houses," discovered a new type of dwelling in their community last Friday, Nov. 2 2007- an orange ice igloo.

Built behind Ataguttaaluk High School by local elder Nathan Qamaniq, with the help of his son, Laimiki, the igloo was the brainchild of Scarlett Hooft Graafland, a Dutch artist based in Amsterdam and New York. Hooft Graafland photographed the igloo as part of her series of Arctic images.

Throughout each stage, from building moulds to pouring water to drying and freezing 32 blocks of ice, the Inuit Broadcasting Corp. filmed the project. After it was complete, the artist served orange juice to children gathered at the site. Then she and Pacome Qulaut of the Inuit Broadcasting Corp. crawled inside the crystal dome to film an interview.

Igloolik elder Nathan Qamaniq enjoys a cup of tea to celebrate a job well done.

"An igloo is the ultimate dwelling," Hooft Graafland says, "but it's fragile. You build it and it's gone. At the same time, it's a sheltering and warm place."

The artist says she wanted to build an "orange juice" igloo to relate to the younger generation, who comprise the majority of Igloolik's residents. Her inspiration came from seeing the large number of young people in the community, and the abundance of southern influences in their lives. "Right away I noticed that the kids drink pop all the time," she says.

Her next task was to find an elder to build the igloo - someone who still has traditional skills. For several hours on Nov. 2, in wind chills of -25 C, Nathan Qamaniq deftly wielded his snow knife to shape the ice blocks into the familiar arched form. As Qamaniq finished the job, his son Laimiki stepped back to view his creation. "It's the first orange igloo in the whole world," he exclaimed. "It's one of a kind."

As curious onlookers drifted to the site, there were smiles all around. Paul Scully, principal of the high school said, "It's amazing. It really gives you a different perspective on what an igloo is."

Mary Kunuk, a filmmaker and art teacher at the high school, said, "No one ever made a coloured igloo before. I think it is awesome."

"The kids are so happy," Sheba Awa, a photographer, added. "They have never seen anything like it."

Ian McLaren, librarian and teacher at the elementary school, said, "It's nice to see a bright splash of colour against the monochrome landscape."

This is not the first time Hooft Graafland has surprised her viewers by providing a twist on familiar objects in their environment. In a solo exhibit this year at the Michael Hoppen Gallery in London, she displayed photos taken in Bolivia's salt desert that portrayed a llama wearing balloons and a pair of bare legs entwined around a cactus.

Hooft Graafland's work has been shown in galleries and museums throughout Europe and America.

While in Igloolik, she has also made portraits of community elders for display at the hamlet office. "Most elderly people here still live the traditional life and have so much knowledge the younger generation doesn't seem to have," she said. "You can see it in their faces. They have lived through so much."

After returning to Amsterdam for the winter, Hooft Graafland will continue her work in Igloolik in the spring of 2008.